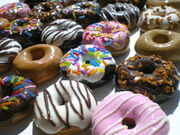 I love Donuts. Donuts love me. We're a big happy family! :D xD
Donut Lovers!!
Edit
Add ur name if u love donuts!
Corey!!! (OH EM GIZZLES I LOVE DONUTS SO MUCH I ATE BRETT'S AVVIE) XD
Brett (I LOVE DONUTS SO MUCH I GO BY DA NICKNAME DONUT BOY :D XD)
KLA (Homer Voice: Dooonnnnuuuttttsssss)
Rossay (DONUTTTTTTS ARE MAH BEST FRIENNNDD)
Ashlynn
Rocky
Liz
Melody :D 
Ad blocker interference detected!
Wikia is a free-to-use site that makes money from advertising. We have a modified experience for viewers using ad blockers

Wikia is not accessible if you've made further modifications. Remove the custom ad blocker rule(s) and the page will load as expected.