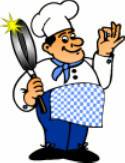 There are many famous gourmet chefs in this world, and they create amazing foods! We love them all and want to thank them for being so talented in the cooking field!
Thankful Users
Edit
.Taytertot (TaylorR5A&A) I LOVE ALL THE CHEFS IN THE WORLD! THANK YOU FOR MAKING SUCH GLORIOUS FOOD XDDD
Corey!!! (CoolCoreyCat13) *Hugs random chefs* I LOVE YOU FOR MAKING FOOD!!! XDD
Eileen (Eileen516)
Famous Chef
Edit
Guy Fieri
Giada De Laurentiis
Emeril Lagasse
Ina Rosenberg Garten
Bobby Flay
Rachael Ray
Paula Deen
Sandra Lee 
Chef Gallery
Edit
Ad blocker interference detected!
Wikia is a free-to-use site that makes money from advertising. We have a modified experience for viewers using ad blockers

Wikia is not accessible if you've made further modifications. Remove the custom ad blocker rule(s) and the page will load as expected.