Welcome to the Food Lovers Wiki! :D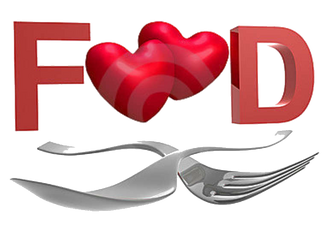 And Today is the 15th day of March.
Here, is where we can all express our love for food! Feel free to share any food photos or pages! :D So for now, enjoy all the food that this wiki presents to you and have fun! Edit some pages and make this food wiki deliciously successful!!! :D

Since this wiki has been created we had 5,909 edits! :D
Contact An Admin

Admistrators (or Admins for short) monitor chat rooms, and comments, while also changing the backgrounds of the wiki, adding and deleting pages, etc. For new users, we are here to help; so feel free to ask us anything if you need to! If you need any help or have any questions (especially food related ones *wink wink* XD), you can always contact an admin in chat or on their message wall!
Our Current Admins:
Corey (CoolCoreyCat13)
KLA (KidLovesAuslly)
Melody (AustinAllyR5&More!)
Perry (PerryThePlatypusShipsAuslly)
The Two First Admins
Corey- Creates most of the pages, adds tons of pictures to articles, added the wordmark title to the wiki and is the owner of the wiki. B)
KLA- Adds and creates most of the categories to articles, adds some pictures, creates new pictures for the badges, and is one of the co-owners of the wiki. B)
Admin Of The Week
Hi guys I am Perry! I am a new admin here and and currently an active admin on "Whatever You Want Wiki". For starters I love cartoons, old or new it is all good to me. My favorite cartoon characters include, Donald Duck, Scooby Doo and Shaggy, Tom (Tom and Jerry), Bugs Bunny, Perry the Platypus, Candace (yes annoying Candace), and loads more. In also love science soooo much, well except for physics I am not a big fan of math. I love to draw as well, it is just I have a hard time fitting it into my schedule.
I like the Hunger Games and.... umm what else..? Um oh yeah, Auslly (although I am not crazy about them anymore) but Austin and Ally make such a cute couple. Well I don't go out a lot, nor have Facebook, Twitter, Instagram,or Tumbler. Basically no social networking stuff. Call me anti-social if you may ha ha. I have never dated a guy before nor ever had a crush, let alone fell in love. Is it sad that I don't even have a celebrity crush? Lastly you should all know that I am OBSESSED with Pokemon, Ben 10 (except for omniverse) and The Next Step!!
.
Types of Food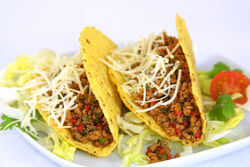 MEXICAN CUISINE (won Favorite Type Of Food for the Food Awards) "Mexican cuisine is primarily a fusion of indigenous Mesoamerican cooking with European, especially Spanish, elements added after the Spanish conquest of the Aztec Empire in the 16th century. The basic staples remain native foods such as corn, beans and chili peppers, but the Europeans introduced a large number of other foods, the most important of which were meat from domesticated animals (beef, pork, chicken, goat and sheep), dairy products (especially cheese) and various herbs and spices. " {source = [cuisine Wikipedia]}
Fast Food Place: 
WENDY'S (won Best Fast Food Place for the Food Awards)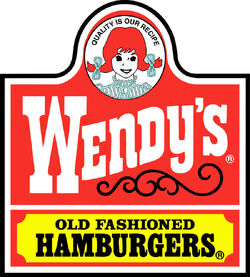 "Wendy's Old Fashioned Hamburgers is an international fast food chain restaurant founded by Dave Thomas on November 15, 1969, in Columbus, Ohio, United States. The company decided to move its headquarters to Dublin, Ohio, on January 29, 2006. As of March 2010, Wendy's was the world's third largest hamburger fast food chain with approximately 6,650 locations, following McDonald's 31,000+ locations and Burger King's 12,000+ locations.[1][2][3] On April 24, 2008, the company announced a merger with Triarc, the parent company of Arby's. Despite the new ownership, Wendy's headquarters remained in Dublin.[4] Previously, Wendy's had rejected more than two buyout offers from Triarc Companies Inc. Following the merger, Triarc became known as Wendy's/Arby's Group, a publicly traded company." {source: [Wikipedia]