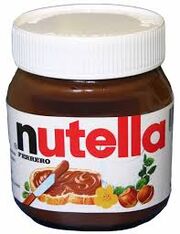 Nutella is a chocolate-hazelnut spread that is yum yum :D!!
Lovers of Nutella <3 :D
Edit
IC
KLA
Melody! (DELICIOUS!!!)
Corey (ITS SO GOOD ON TOAST) <3
What We Eat With Nutella!
Edit
We all love Nutella.....because DER it's DELICIOUS!!! What do you eat nutella with?
bread
crackers 
fruit
milk!