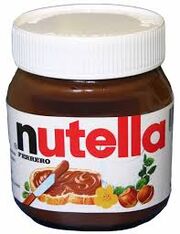 Nutella is a chocolate-hazelnut spread that is yum yum :D!!
Lovers of Nutella <3 :D
Edit
IC
KLA
Melody! (DELICIOUS!!!)
Corey (ITS SO GOOD ON TOAST) <3
What We Eat With Nutella!
Edit
We all love Nutella.....because DER it's DELICIOUS!!! What do you eat nutella with?
bread
crackers 
fruit
milk!
Ad blocker interference detected!
Wikia is a free-to-use site that makes money from advertising. We have a modified experience for viewers using ad blockers

Wikia is not accessible if you've made further modifications. Remove the custom ad blocker rule(s) and the page will load as expected.