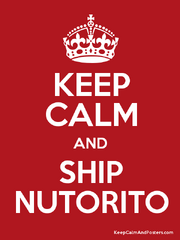 Nutorito is the romantic relationship of Nutter and Doritos.
Oreo - OMG UR CHEATING ON ME :'(
Nutter - Your in my stomach -.-
Oreo - Good point XD
Nutorito Moments
Edit
Nutter bought Doritos from the store.
Doritos was happy when Nutter bought her.
Doritos fell in love with Nutter.
Nutter fell in love with Doritos.
Nutter kissed Doritos.
Nutter ate Doritos.
Nutorito Shippers
Edit
Nutter (I WUV U DORITOSSSSS)
Doritos (I WUV U MOREEEEE)
Marley :D
Corey 
KLA (NUTTER! HOW DARE YOU CHEAT ON OREOS! -3-)
Megan (I SORT OF SHIP THIS, BUT NUTTER YOU CHEATER! XD)
Ad blocker interference detected!
Wikia is a free-to-use site that makes money from advertising. We have a modified experience for viewers using ad blockers

Wikia is not accessible if you've made further modifications. Remove the custom ad blocker rule(s) and the page will load as expected.