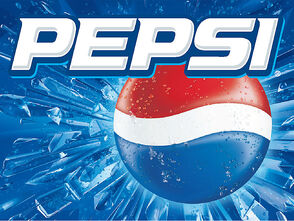 Pepsi (stylized in lowercase as pepsi, formerly stylized in uppercase as PEPSI) is a carbonated soft drink that is produced and manufactured by PepsiCo. Created and developed in 1893 and introduced as Brad's Drink, it was renamed as Pepsi-Cola on August 28, 1898, then to Pepsi in 1961. Pepsi was first introduced as "Brad's Drink"[1] in New Bern, North Carolina, United States, in 1893 by Caleb Bradham, who made it at his drugstore where the drink was sold. It was later labeled Pepsi Cola, named after the digestive enzyme pepsin and kola nuts used in the recipe.[2] Bradham sought to create a fountain drink that was delicious and would aid in digestion and boost energy.
Ad blocker interference detected!
Wikia is a free-to-use site that makes money from advertising. We have a modified experience for viewers using ad blockers

Wikia is not accessible if you've made further modifications. Remove the custom ad blocker rule(s) and the page will load as expected.