Pie is an amazing dessert, often made in many different amazing flavors!! :D Everyone loves pie, I hope! :D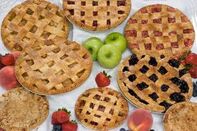 Flavors! 
Edit
Apple
Cherry
Peach
Chocolate
Fruit
Pumpkin
Pecan
Cranberry
Blueberry
Banana Whip Cream
Key Lime
Pudding
Pie Lovers! <3
Edit
Megan
Melody (PIIIIIIIIEEEEEE!!!!!)
Corey!!!! (Omg Pie...... :D)
KLA (PIE. Is. AWESOME!)
Rossay (PIEEEE YAAYY XD)
Rocky (ME LOVES CHOCOLATE PIE)
Perry (APPLE ALL THE WAY!)
PICTURES...
Edit
Ad blocker interference detected!
Wikia is a free-to-use site that makes money from advertising. We have a modified experience for viewers using ad blockers

Wikia is not accessible if you've made further modifications. Remove the custom ad blocker rule(s) and the page will load as expected.