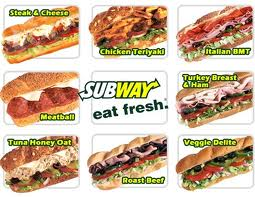 Subway (stylized as SUBWAY) is an American fast food restaurant franchise that primarily sells submarine sandwiches (subs) and salads. It is owned and operated by Doctor's Associates, Inc. Subway is one of the fastest growing franchises in the world, with 40,855 restaurants in 105 countries and territories as of January 1, 2014. It is the largest single-brand restaurant chain and the largest restaurant operator globally.
Source: http://en.wikipedia.org/wiki/Subway_(restaurant)
Subway Lovers!
Edit
Corey (LOVE THEIR SANDWICHES! <3)
Melody (SOOOO GOOOOODDD!!!!)
Polarjack77 (mmmmmmmmm toasty)
(Add your name if you love Subway!)
Ad blocker interference detected!
Wikia is a free-to-use site that makes money from advertising. We have a modified experience for viewers using ad blockers

Wikia is not accessible if you've made further modifications. Remove the custom ad blocker rule(s) and the page will load as expected.